Design sprints
Answer critical business questions in just five days by designing, prototyping and testing ideas with real customers.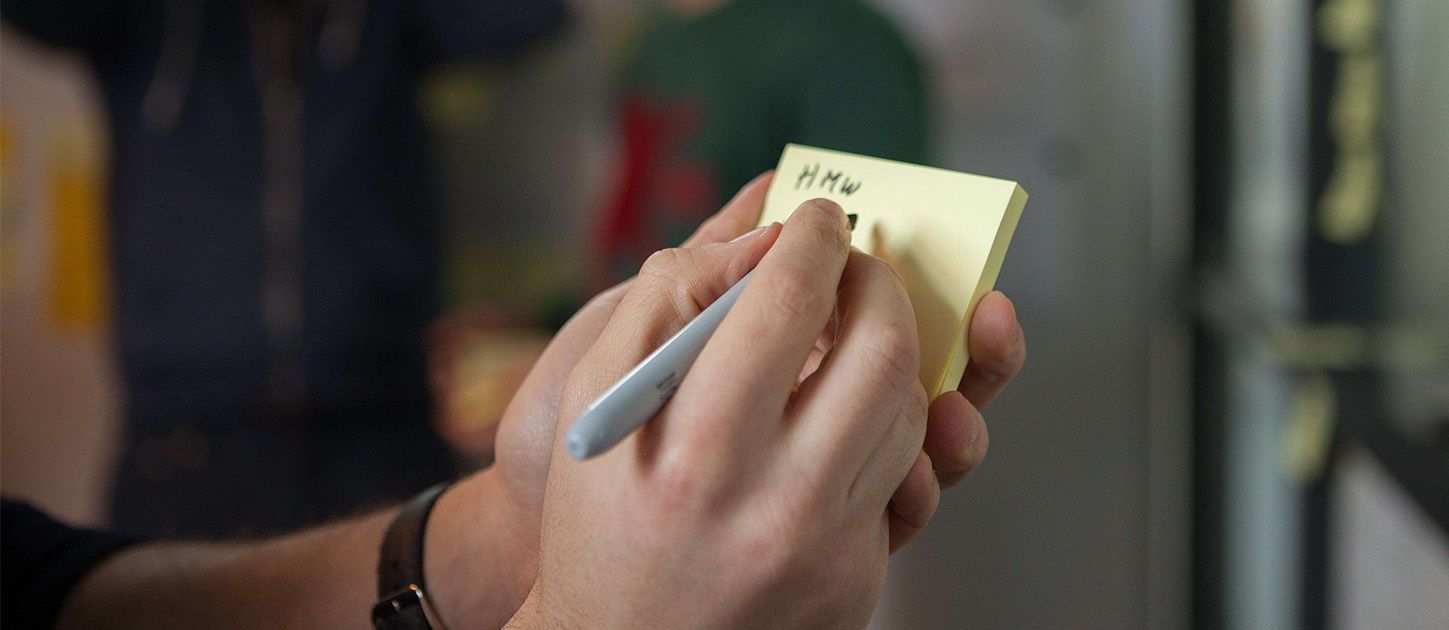 Minimize risk of investment
Running a design sprint gives companies the freedom to test almost any idea or product in just one week, with minimal capital and risk.
As a team we use the Design sprint stages to make sure we bring, well thought out and validated, solutions to your business challenge. Each stage in the method includes practices of a complete UX process such as user research, user interviews, prototyping and user testing.
Setting the stage
Workshop preparation
The workshop preparation is very crucial for the Sprint's success. Before the Design Sprint begins we need to have the right challenge and the right team. Recruiting a group of 8 participants from different aspects of the company: business, marketing, technology, product and design is of the utmost importance in order to get the best perspectives on the challenge. What we also need is time and space in order to conduct the sprint in a successful manner. This means we need a war room available for a whole week, preferably in a visible location.
Monday
Understand and define
Monday's are structured in such a way that our discussions create a path for the Sprint week. In the morning discussion we will agree to a long-term-goal. After that we will make a map of the challenge. That afternoon together we will ask the experts at your company to share their insights regarding the challenge. At the end of the day we will pick a target together: an ambitious but manageable piece of the problem that we can solve in one week.
Tuesday
Diverge
After a full day of understanding and defining the time to get creative has come. Today we will get to focus on solutions! First we will start to inspire the Sprint team by reviewing existing ideas to remix and improve. In the afternoon every team member will be sketching their ideas individually, in this session your artistic skills are less important than your critical thinking. So don't worry, your value is not dependent upon your artistry.
Wednesday
Decide
When we start on Wednesday morning we will have a stack of solutions ready to decide on. We'll have to choose the best solution because we can't prototype every idea, we need one solid plan. In the morning we will critique each solution and decide which idea has the best chance of achieving our long term goal. In the afternoon we will take the winning scenes from all of our sketches and create a storyboard which will function as a step-by-step plan of attack to build the prototype.
Thursday
Prototype
With the storyboard we created yesterday we are able to create a prototype together. The only thing we need to be able to test on end users is a realistic user experience. We are able to create a prototype in In one day because we will only be focussing on what the end user 'experiences'.
Friday
Validate
It's V-day! Showtime people! Today, as a team, we will see how our solution is judged through the eyes of our end users. We will be interviewing end users and learn from them by watching them react to our prototype. This test makes the entire Sprint more valuable. At the end of the day we'll know just how far we have to go and what to do next.
The benefits of a design sprint
Ideating, building and testing in front of users all in the span of one week is about as time and capital efficient as it gets.
Increase of team spirit and a more focussed team alignment where all stakeholders work together on the same goal.
Focus on the actual end users and bringing them in makes the problem(s) more concrete.
When we bring in unbiased users in the office it's hard to argue what's the best decision.
Rapid prototyping frees you from the traditional time and capital constraints of building a product to test it.
After the sprint you now have a workable prototype that serves as a guiding artifact and which you can develop further.
Got a business challenge? Let's sprint!
Do you have a specific business challenge that needs a solution fast? Let's schedule a Design Sprint and answer critical business questions together in only five days.
Get in touch
Bankai
Torenallee
5617 BC Eindhoven